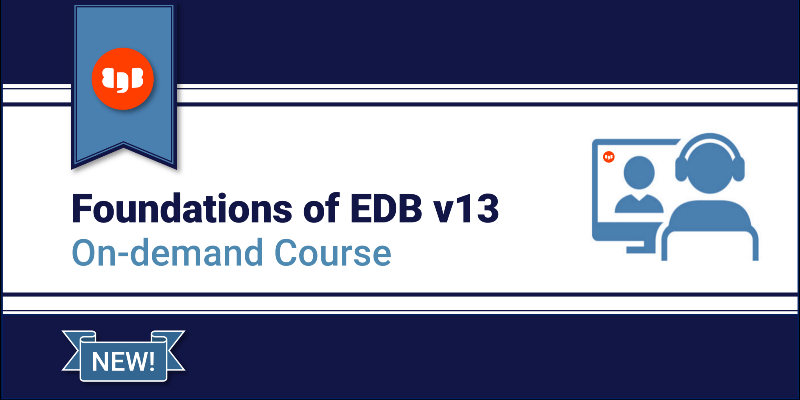 Foundations of EDB v13
ID: TRNG-FTP-08v13
Language:
English
This complimentary hands-on course has been completely redesigned in a new interactive, self-paced format. This new on-demand style is 60% hands-on with new features including drag and drop, true & false, click to learn and quizzes all designed to increase learning retention. The course content has been updated with the new features of EDB Postgres Advanced Server v13. New v13 highlights include Parallel Vacuuming and concurrent build for indexes as well as verify backups using pg_verifybackup.
This foundations course will focus on the essentials of EDB Postgres Advanced Server database administration; providing the skills required to install, configure, manage and maintain EDB Postgres Advanced Server. This understanding will help prepare you to manage large, highly available databases and their technical requirements with confidence.
Audience:  DBAs, Architects, System Administrators and IT Professionals responsible for administration and maintenance of EDB Postgres Advanced Server and want to understand how to use the primary features.
Duration:  Suggested duration is 30 hours
Course outline
Introduction to EDB Postgres Advanced Server
System Architecture
EDB Postgres Advanced Server Installation
Databases Clusters
Configuration
Creating and Managing Databases
User Tools: Command Line Interface
GUI Tools
Security
SQL Primer
Backup and Recovery and Point-in Time Recovery (PITR)
Performing Routine Maintenance Tasks
Data Dictionary
Moving Data Using COPY Command
EDB*Plus
Tablespaces
Oracle Compatibility
Migrating Oracle Objects to EDB Postgres Advanced Server
Data Loader

Prerequisites
Basic experience in database administration and knowledge of RDBMS concepts
Basic understanding of SQL
Basic experience with the use of the Linux operating system is helpful
Certification Path
This course is the suggested prerequisite to help prepare for the EDB Associate Certification Exam. To become certified, candidates must score a 70% or higher on the 1-hour, multiple-choice exam. Successful candidates will receive a personalized PDF certificate from EDB and a digital badge that can be shared on social media, email and more.
Notes:
This course is also available in on-demand format for versions 10 and 11.
Foundations of EDB can also be delivered as Private Instructor-led Training, please contact us for pricing and more information.